We have detected that javascript is currently disabled. To get the fullest experience from our site we suggest enabling javascript. If you have any issues using our site please contact us.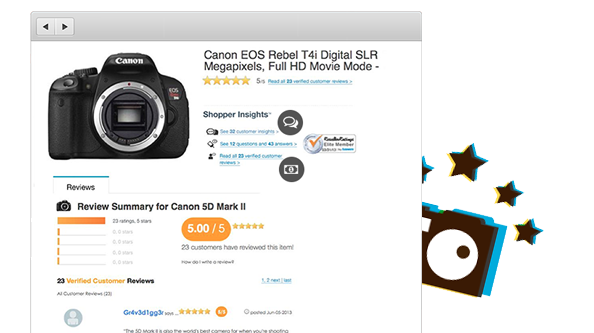 Two Product Reviews Solutions for your Store
Product Reviews

Product Persuasion

Instead of traditional Product Reviews, Product Persuasion captures a tweet-like sentiment from users immediately post purchase that asks them what prompted them to buy. It captures the deciding motivator the user used to buy a product and publishes it to the product page foreground for other users.

Capture SKU level Product Reviews
Capture sku level product reviews from customers one week post purchase, plus convincing "why I bought this sentiments" at checkout.

Easy Implementation
Don't worry about sending us product feeds, or anything like that. Our JS implementation sits on your page and takes moments to get going. Once it's up, reviews will start popping up right away.

Google & Bing Syndication
Product Reviews are syndicated into your sku level product pages, lifting conversion to sale by 8-15%, as well as Google Shopping and Google search.
Squeeze out SEO Juice with Product Reviews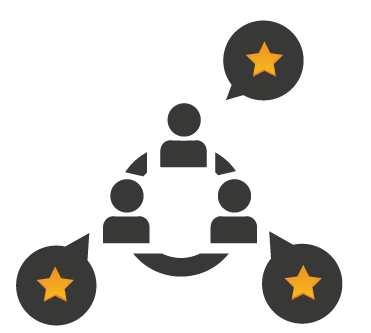 iFrame Solutions
Can't wait to implement Product Reviews and use an API? No issues, leverage our iFrame Pop Up or Tabbed Solution to start collecting your reviews and review data right away with several simple pieces of code!

Raw Data Feeds
You get access to all your Product Reviews data in RAW JSON feed form so your developers can easily build out SEO solutions.

SEO optimized Product Snippets
Use our sexy and simple API to start building out our Google & Bing optimized SEO solution. These data snippets are returned wrapped in HTML juicy SEO data. Turn your whole site into an official SEO powerhouse leverage our simple solutions.
Simplified Management

Verified Customers
Our Product Reviews are sourced from real purchasers of the product. These users give a legitimate, and authentic view of how what products are reputable.

Flag Reviews for Removal
Flag reviews from non-customers (or for other violations of our terms) for possible removal.
Account Managers
Like all ResellerRatings Products, we have dedicated Account Managers to help you out with concerns regarding reviews, and moderation. We're there to take the pain out of management.