ResellerRatings: 15 Years of Trust
Our mission is to offer first-hand customer accounts of online retailers to highlight the best and help shoppers avoid the rest, and to help great retailers excel. In 1996, two years before Google, there was ResellerRatings. The original founder guides the site today, and our company has grown into a passionate team.
Our Team at Work

We're passionate people hard at work every day helping consumers and merchants. A few of our core team, above.
Respected by 1,889 Retailers Who Embrace Customer Reviews
1,889 retailers, including leading brands like Barnes & Noble, Zappos, B&H Photo, and Newegg.com, participate at ResellerRatings to survey customers, monitor reviews, and resolve issues.

Recommended in the Media
We Power Google Products, AdWords, and Bing Shopping
Google. Bing. The New York Attorney General. These are names that are associated with quality, authority, and authenticity. Each one of these organizations has trusted our ratings and reviews in various ways.
Google displays our ratings and reviews throughout Google Shopping, and within sponsored AdWords ads: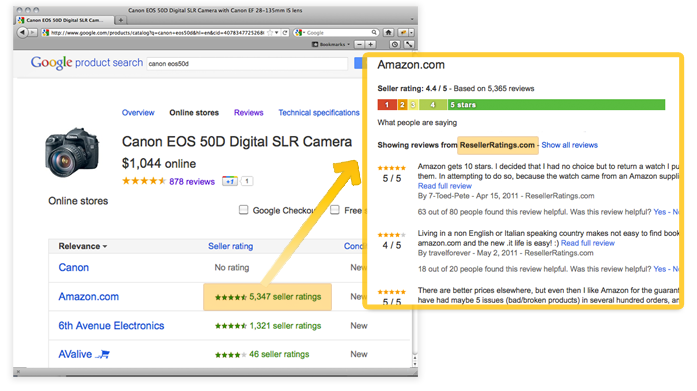 Bing displays our ratings and reviews in Bing Shopping, and Bing chose ResellerRatings as their first and currently the only provider of ratings and reviews.
The New York Attorney General's office asked for our help to expose retailers who wrote reviews for themselves, pretending to be consumers. We helped expose a number of disreputable retailers, which the Attorney General fined.
ResellerRatings features the highest quality consumer reviews from actual customers. We require an order number with each review, we allow merchants to post replies in response to reviews and to flag reviews for verification, and we apply fraud detection techniques to prevent and detect fake "shill" reviews. Reviews are not invented by ResellerRatings.com's staff nor are any reviews allowed to be posted by merchants. If you are a merchant and you believe that you have received reviews from someone who didn't place an order with you, create an account with us and flag the review so that it can be verified and removed under our policies if it was posted by a non-customer.
High Ethical Standards
In June 2009, the Attorney General of New York announced a partnership with ResellerRatings to quickly and effectively detect, investigate, and prosecute instances of illegal business practices by Internet-based companies.
ResellerRatings adheres to the highest ethical standards. Our policies are applied uniformly across all merchants, whether or not a merchant subscribes to our services. It is not possible to subscribe or to pay us any compensation to remove reviews, nor to compel us to alter ratings or reviews. Reviews are only removed if they do not comply with our terms of use.
It is FREE for retailers to post public replies in response to customer reviews.
We have more than 1,889 retailers who subscribe to our Merchant Member toolset (including Newegg.com, Buy.com, TigerDirect, CompUSA).
Customer Service Is a Two Way Street
Although 80% of our reviews are positive, issues with online purchases do arise. ResellerRatings acts as a catalyst to resolve customer issues, and we encourage and facilitate communication between retailers and their customers, since retailers can contact reviewers to resolve issues or flag reviews from non-customers. What's more, we encourage retailers to sample ALL of their customers using our exit survey, to maximize reviews volume and accuracy of ratings.
About ResellerRatings
Discover what's great about ResellerRatings.
Browse FAQ Categories
Answers to common questions, as well as details about our policies.
About ResellerRatings
Learn more about the company & reputation