---
DX-BOX is not a merchant member!
From Google, Bing & Yahoo your review is heard across the web. We make sure your voice travels far and wide. The ResellerRatings community of shoppers (like you) make the world a better place by leaving reviews of your online experience.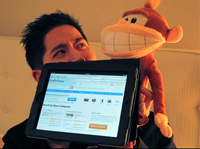 You can be a winner like this guy! When you share a review with us you're automatically entered to win
an awesome iPad Mini
.