We have detected that javascript is currently disabled. To get the fullest experience from our site we suggest enabling javascript. If you have any issues using our site please contact us.
Product Questions & Answers
---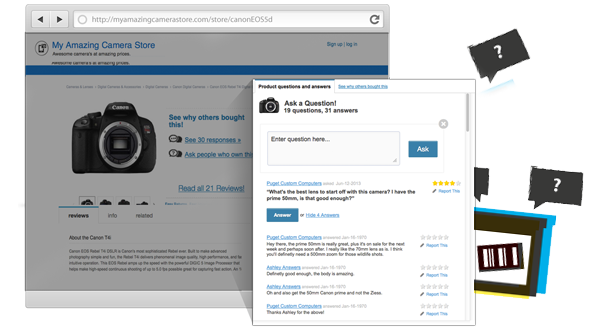 Harness the power of verified Buyers

Easy Implementation
Easily and efficiently add Q&A support to your product pages. Increase your product page conversion rates and lower your customer service costs.

Increase Conversion to Sale
Product Q&A is design to provide the answers to the questions your consumers have without taking them out of the purchase funnel.

Leverage our Massive Network
Answers wide network reaches almost 1/3rd of all internet users and that network powers our QA service so questions asked by consumers are answered with haste.
Email Alerts & Notifications
Get notified when questions come in, or when users reach out to your team.

Flag Reviews for Removal
Flag reviews from non-customers (or for other violations of our terms) for possible removal.

QA Management
Conveniently manage your customer Questions and Answers. Our administration panel allows you to get alerted when new questions come in, and your staff to respond and manage your growing database of answers. We will help you easily import your existing offline and online questions and answers.